The whole team took on the International Building Show "IBS" this year in Las Vegas! From live sessions to new product launches, IBS and KBIS "Kitchen + Bath Show" is how On Point stays ahead of the building curve bringing the newest technology and product offerings to our clients! In addition to 3 full days of learning and exploring in Vegas, Hunter traveled to Palm Springs for 2023 Modernism Week to view the design trends of this year!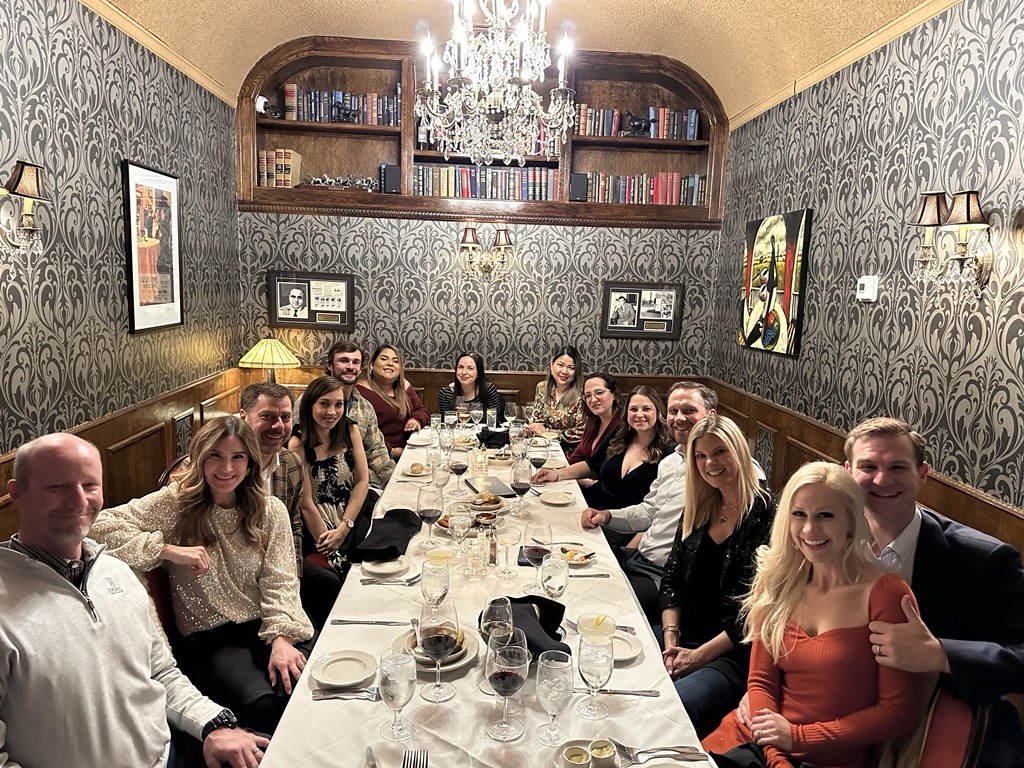 Here are the Top 5 Design and Building Trends to Look Out For in 2023:
1. Pine and Natural Woods
Grey wood is a thing of the past, while timeless warm natural wood tones are coming back! Utilizing these on cabinets, floors, and ceilings gives a homey inviting feeling to your space as well as blending seamlessly with all patterns and colors. Not only is Pine or White Oak a wonderful choice esthetically, it is also a great choice for low maintenance and durability. Opposed to the previously overused Red Oak, White oak takes stains much better and has a wider range of color variations.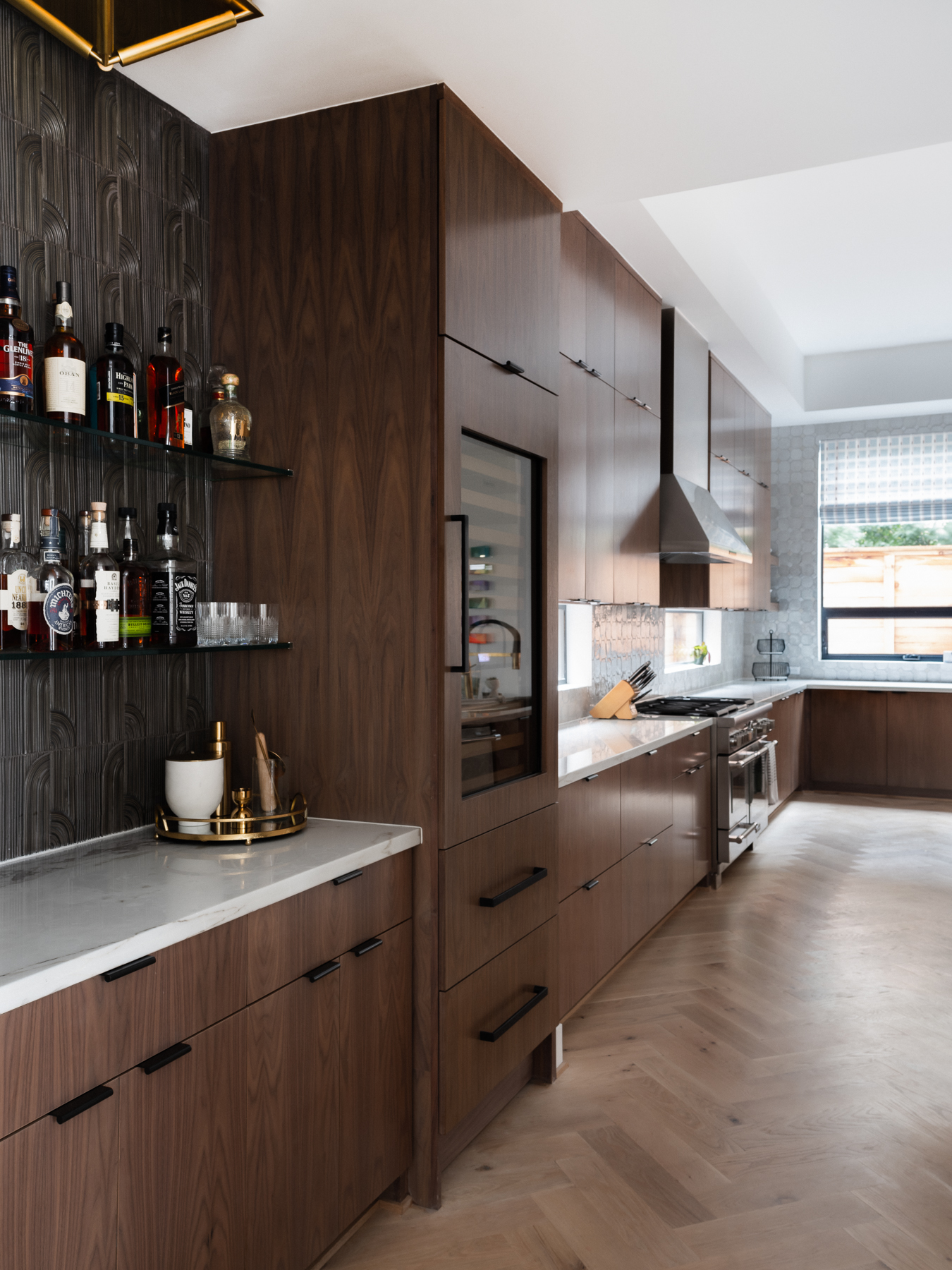 Montrose home with White Oak floors and a clear natural protective stain. Walnut wood cabinet with marble countertops and matte black hiddle tabs.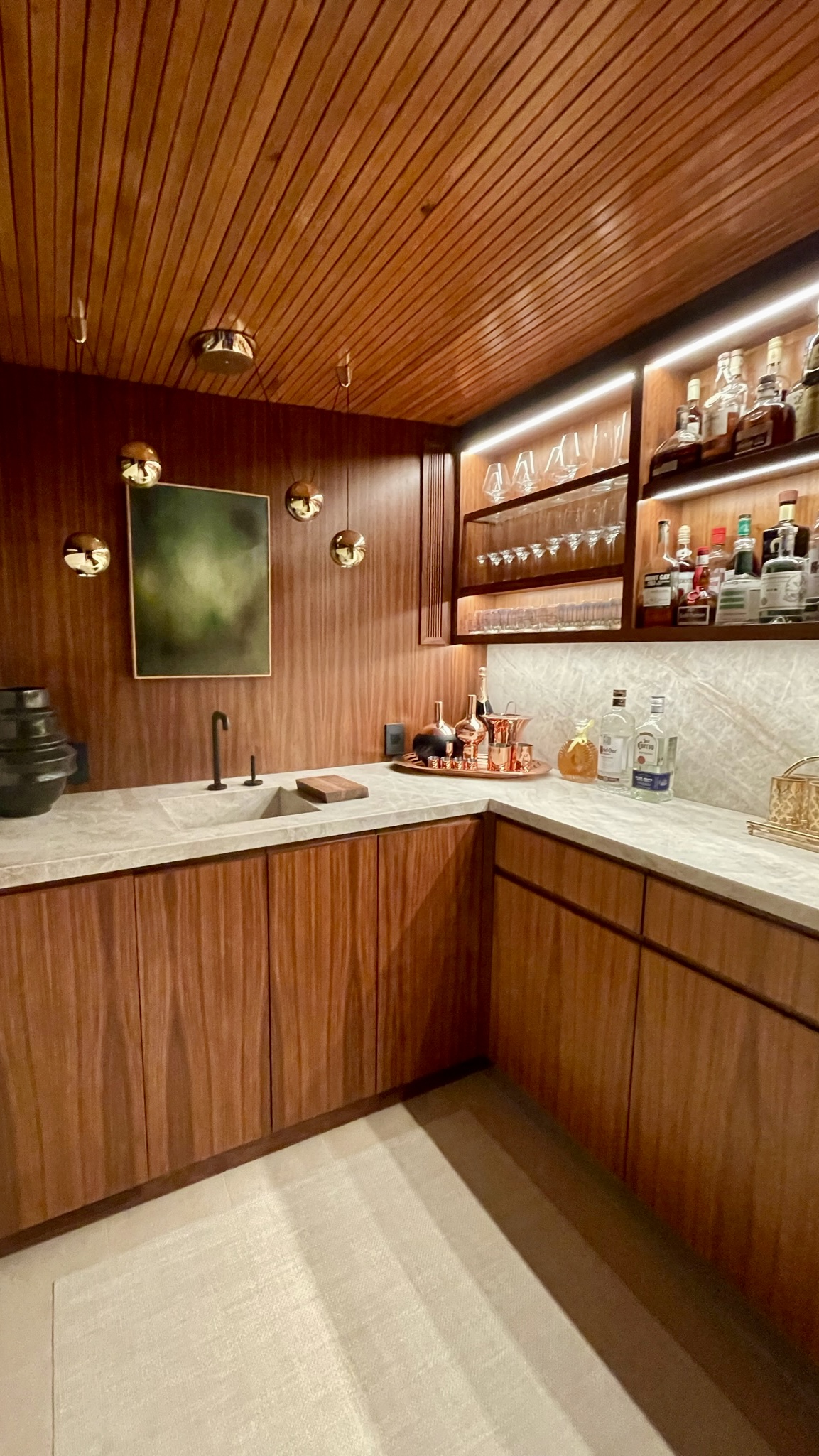 Redwood carried on the cabinets ceiling of the House of Tomorrow famously known as Elvis Presley's Honeymoon Hideaway.
2. Wallpaper and Jewel box rooms
Small specialty spaces are no longer forgotten spaces. Powder rooms, pantries, mudrooms, and the list goes on and on for spaces that are becoming focal points in the home. These smaller spaces are the perfect spot to take a risk and add some additional personality to a space without the commitment of a larger, more visible space. Wallpaper adds character, color, and excitement to the space. This is why we see no signs of wallpaper losing popularity in the next few years.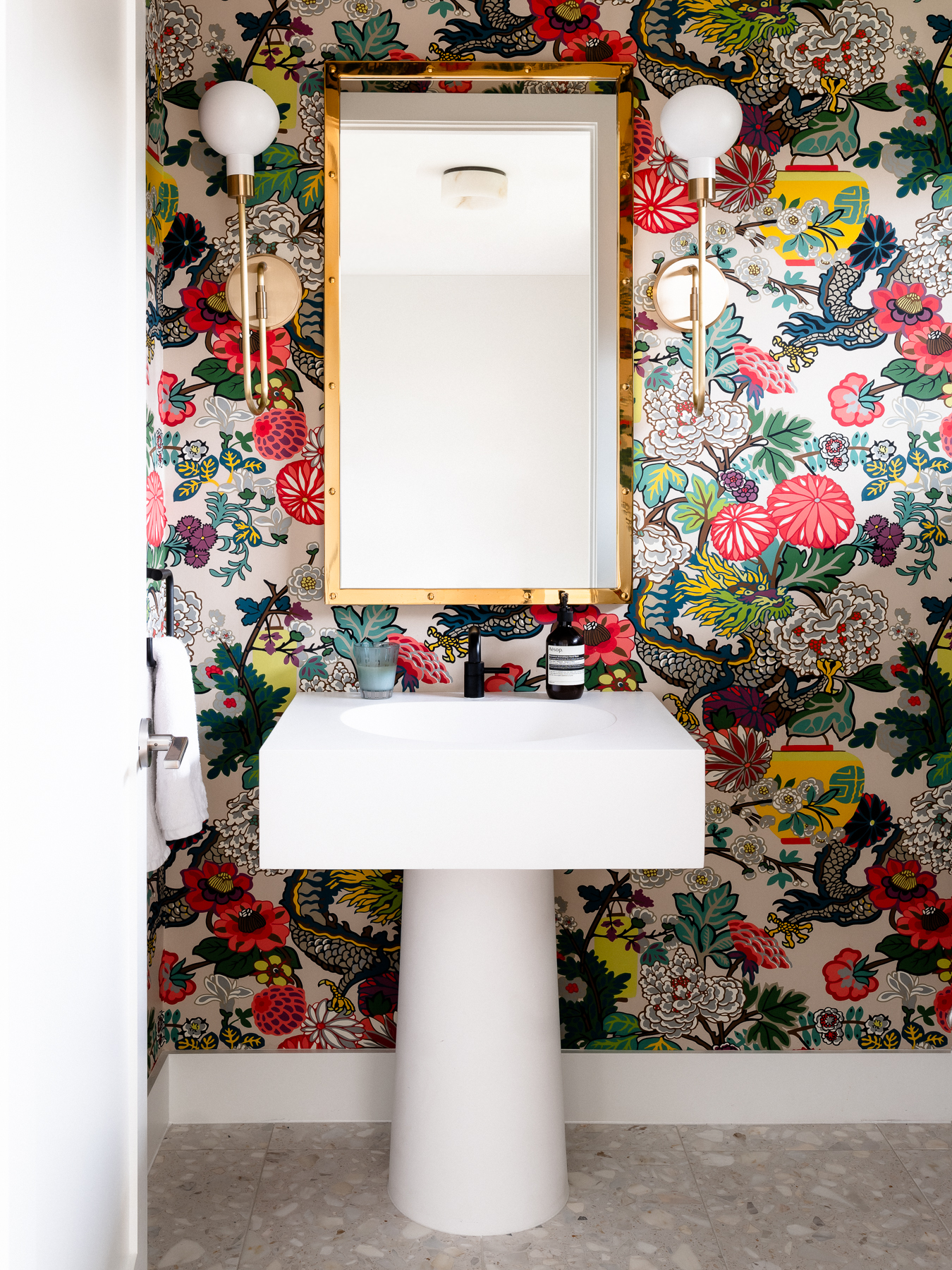 Montrose powder bathroom with bold wallpaper, terrazzo tile, and natural stone pedastal sink.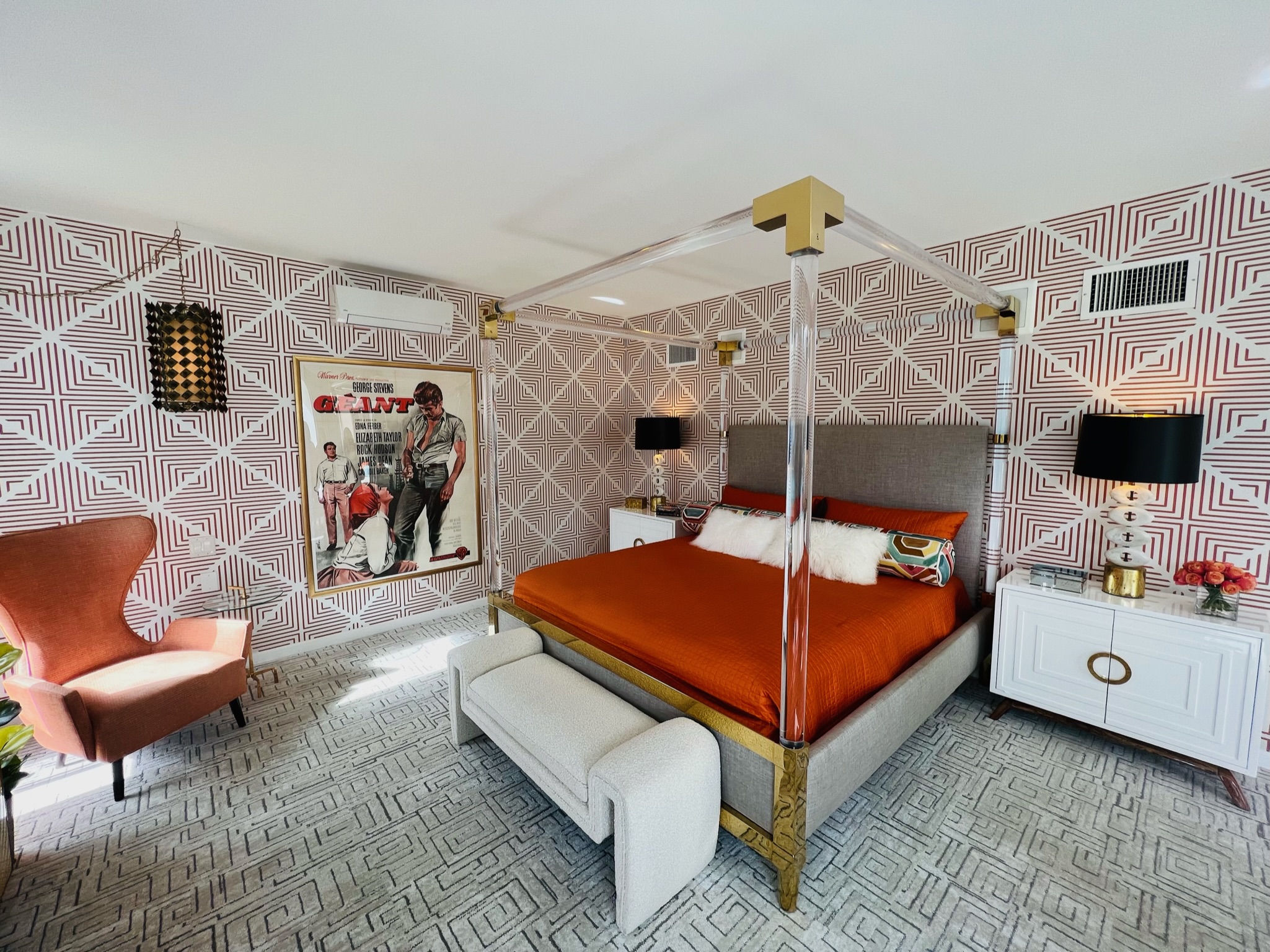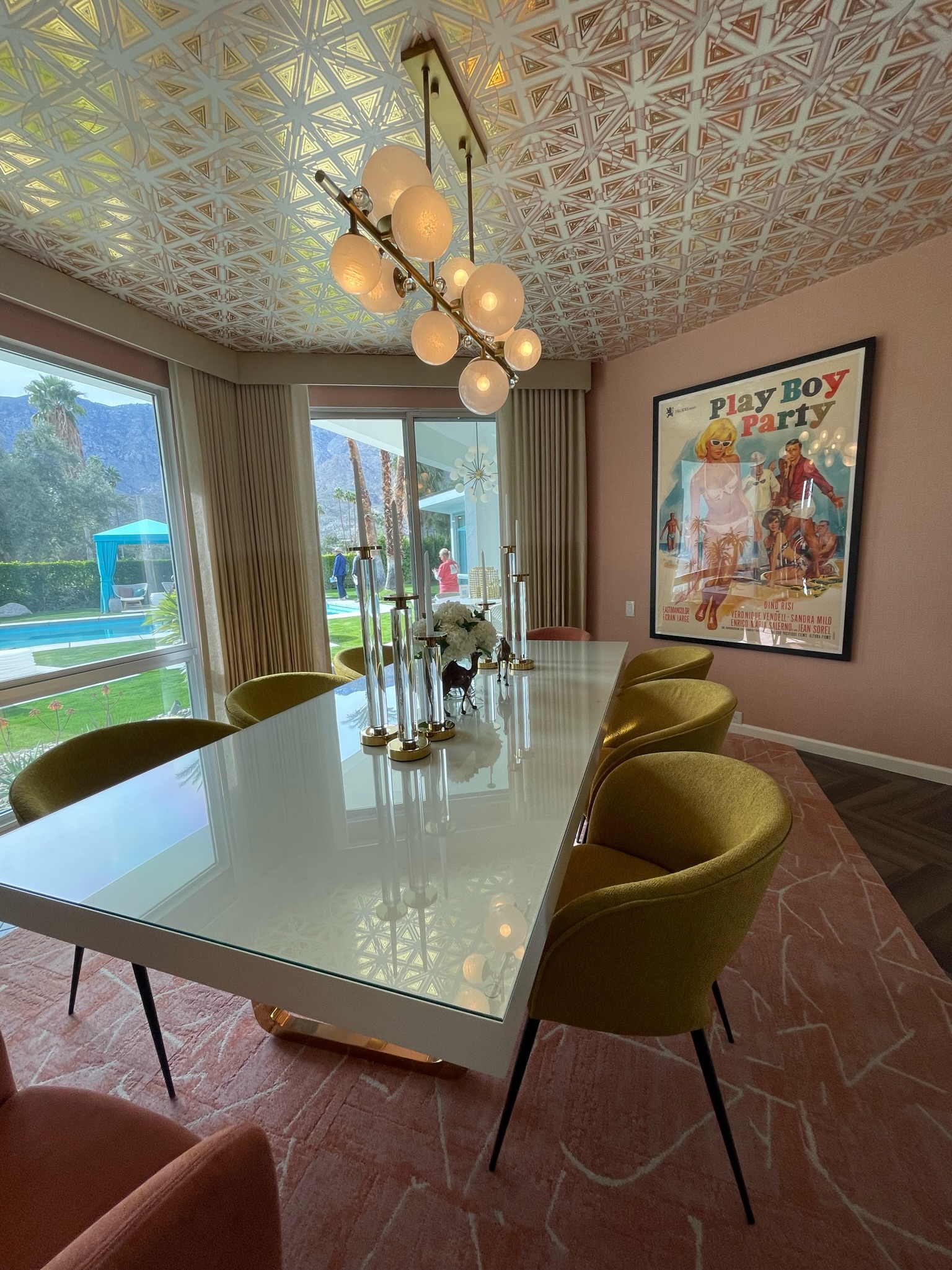 Yoasis Palm Springs Modernism 2023 Showhouse with floor to ceiling wallpaper including bedrooms, kitchen, bathrooms and even the dining room ceiling.
3. Zellige, Terrazoo, and Natural Textured Tiles
Zellige tile is a glossy Moroccan tile that has been part of the flood of natural design for some time now. People are getting creative with the color, texture and layouts of zellige and natural tile designs. Why is it becoming so popular? They are just perfectly imperfect and versatile. Zellige tile works in every home design style from modern and eclectic to traditional. Since the style is originally more Moroccan design, it easily translates to a Mediterranean style, European, English Tudor, and many other international styles. The previous subway tile trend is out and the replacement is using a glossy textured tile that feels more organic while still feeling high-end and glam. We forecast seeing this trend more this year as well as in future years to come!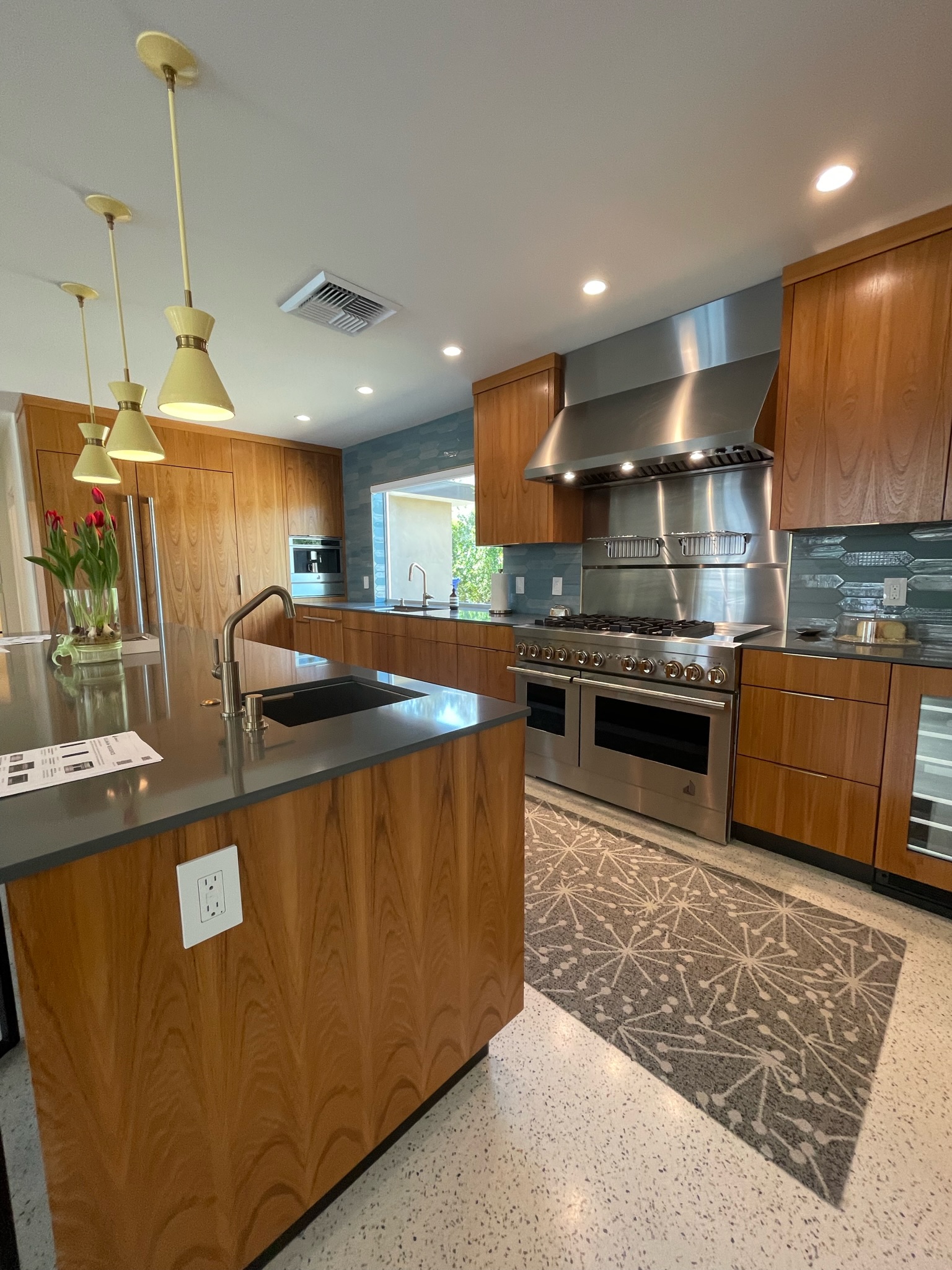 Terrazzo tile flooring with picket matte and polished backsplash tile. Also featuring the Jennair Rise appliances.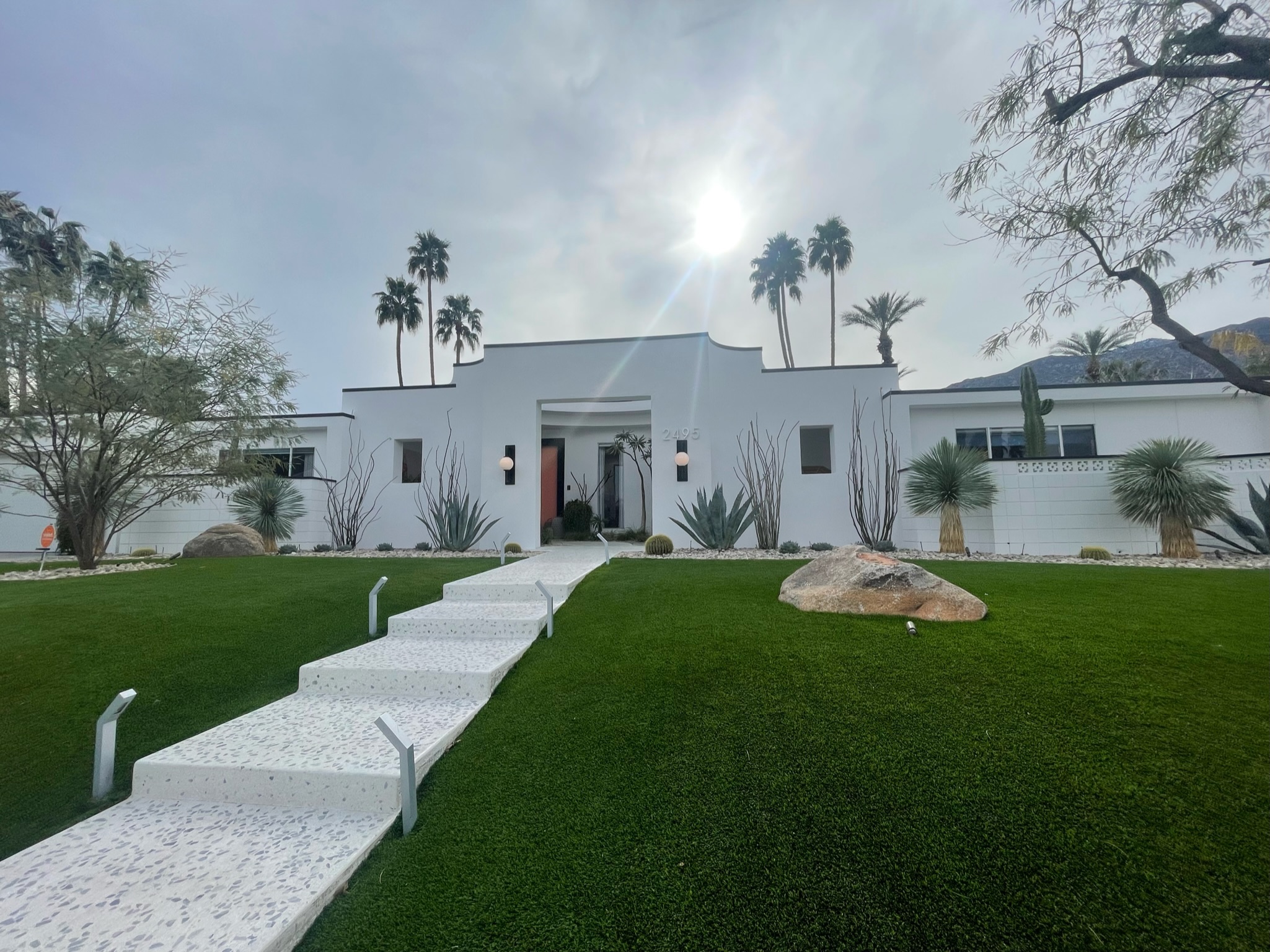 Terrazzo tile pathway to the front.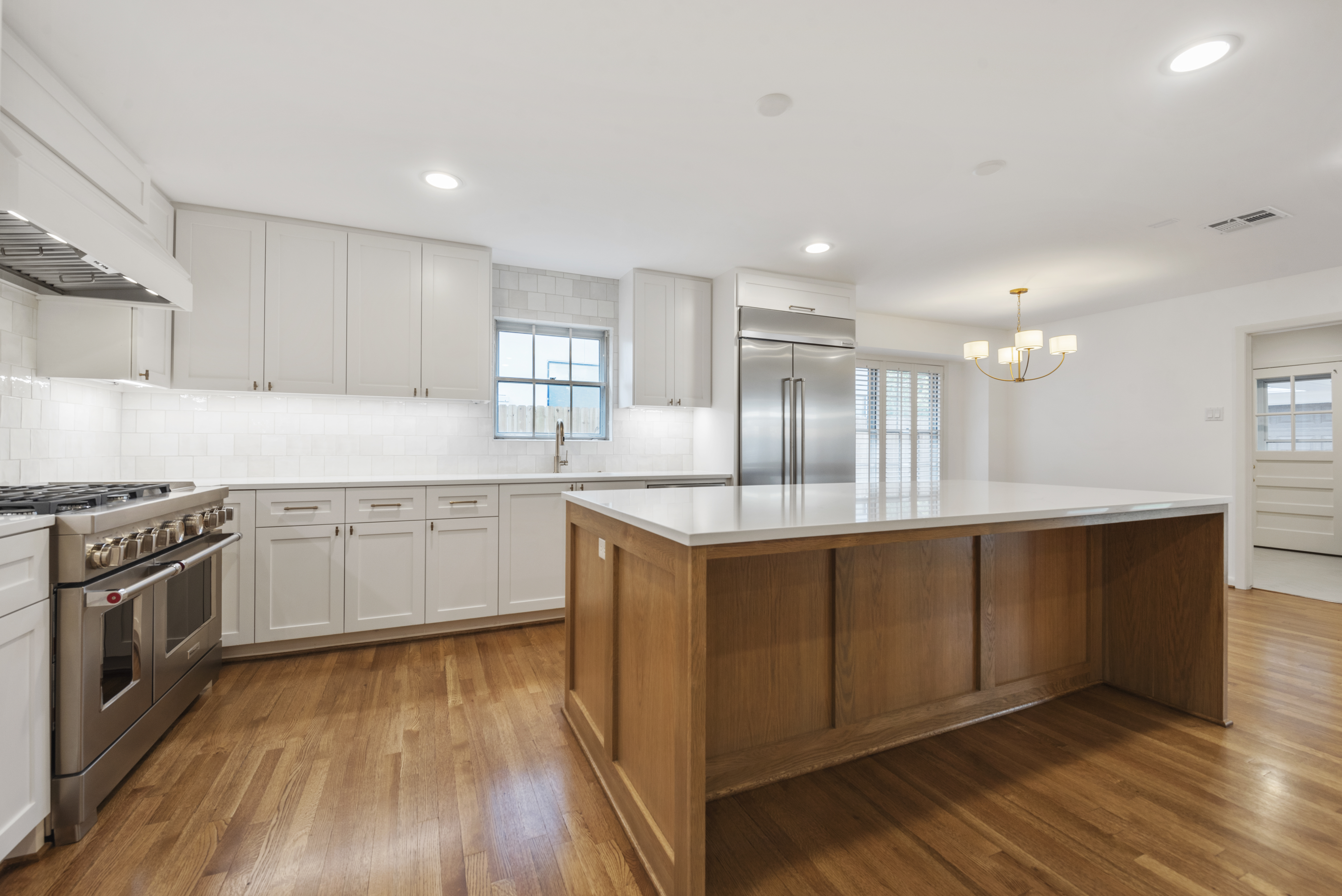 Kitchen backsplash with Arizona Tile Flash 5x5 zellige tiles in our Tanglewood full home Remodel.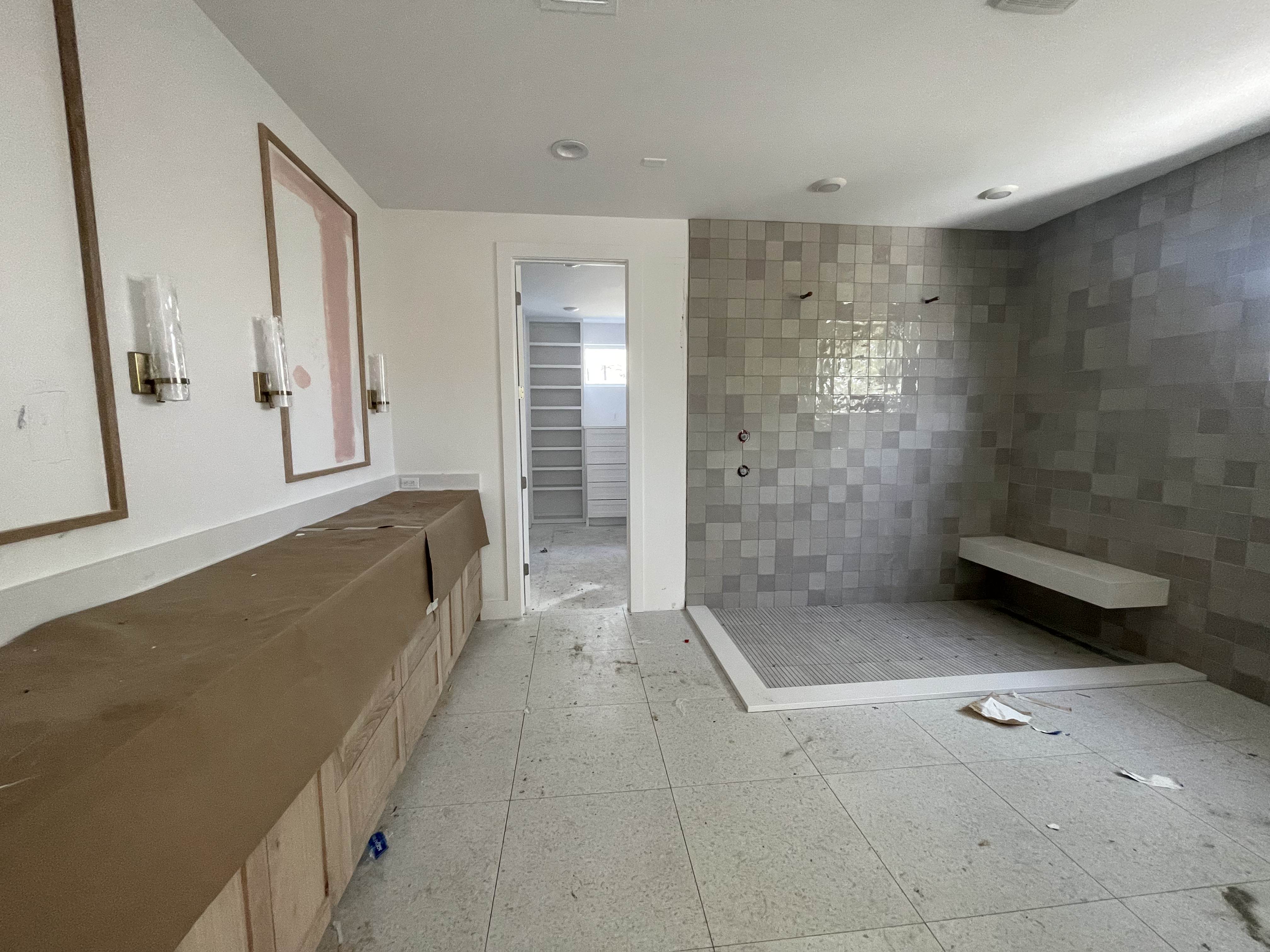 Grey zellige tile and terrazzo flooring used in our home for SALE on Huldy! Schedule a tour today!
4. Bold Colors
In the past few years, we have seen more of the same grey and white safe combinations. With people still spending more time at home, people are getting bold with their designs, especially bold colors! Lavender, terracotta, teal, and are the top trending colors of 2023. Although being bold has its payoffs, it can also be tricky to use these without overwhelming the space. Mixing and matching colors is a great way of making architectural elements of a home stand out. Using bright, vibrant colors to frame out a doorway, make a statement ceiling, or a simple single-color accent wall, or all ways to incorporate these bold options. Combining bold colors with other statement trends like wallpaper and checkerboard is another great way to make a space unique and exciting.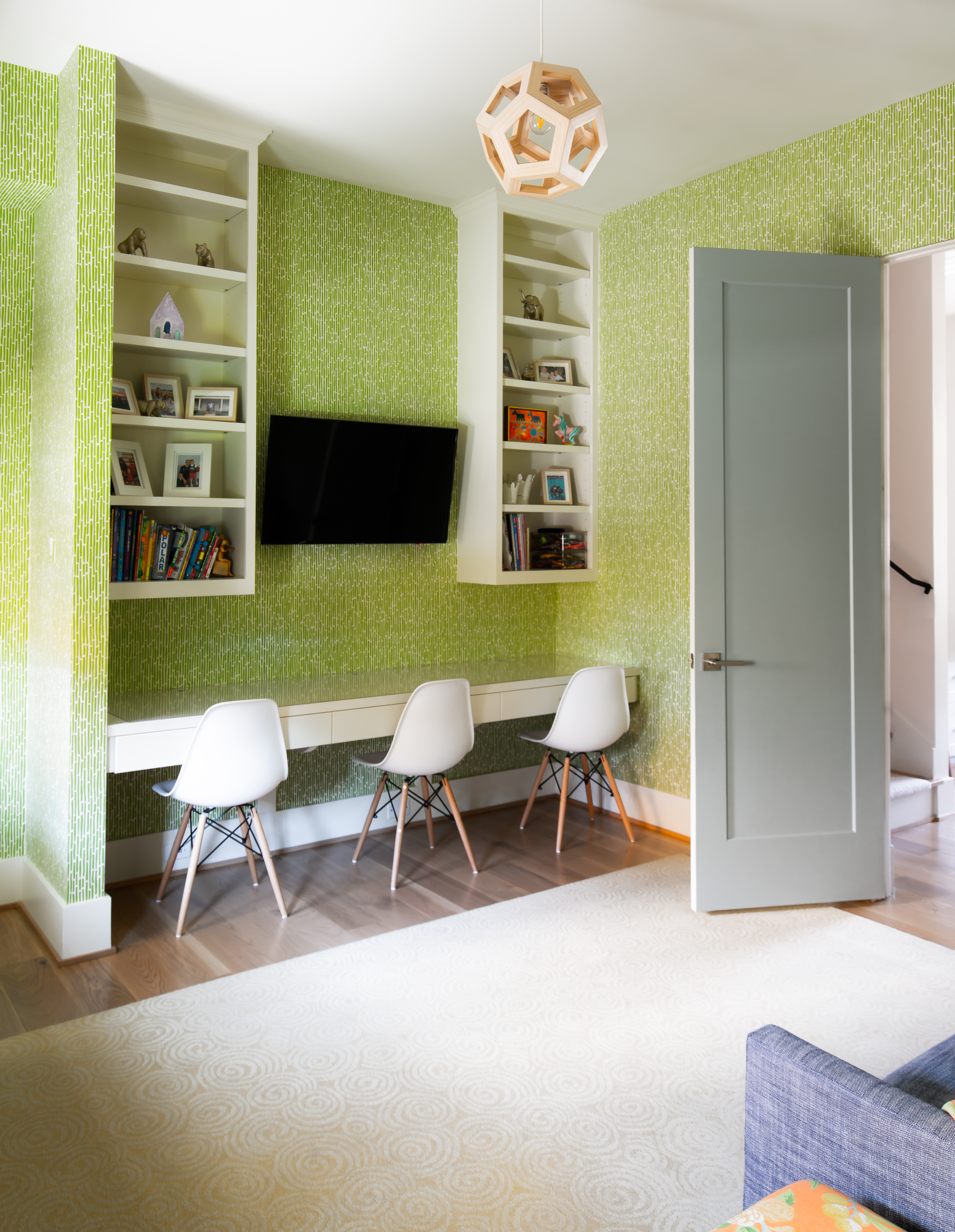 Bright green wallpaper with natural wood floors and white trim to stand out.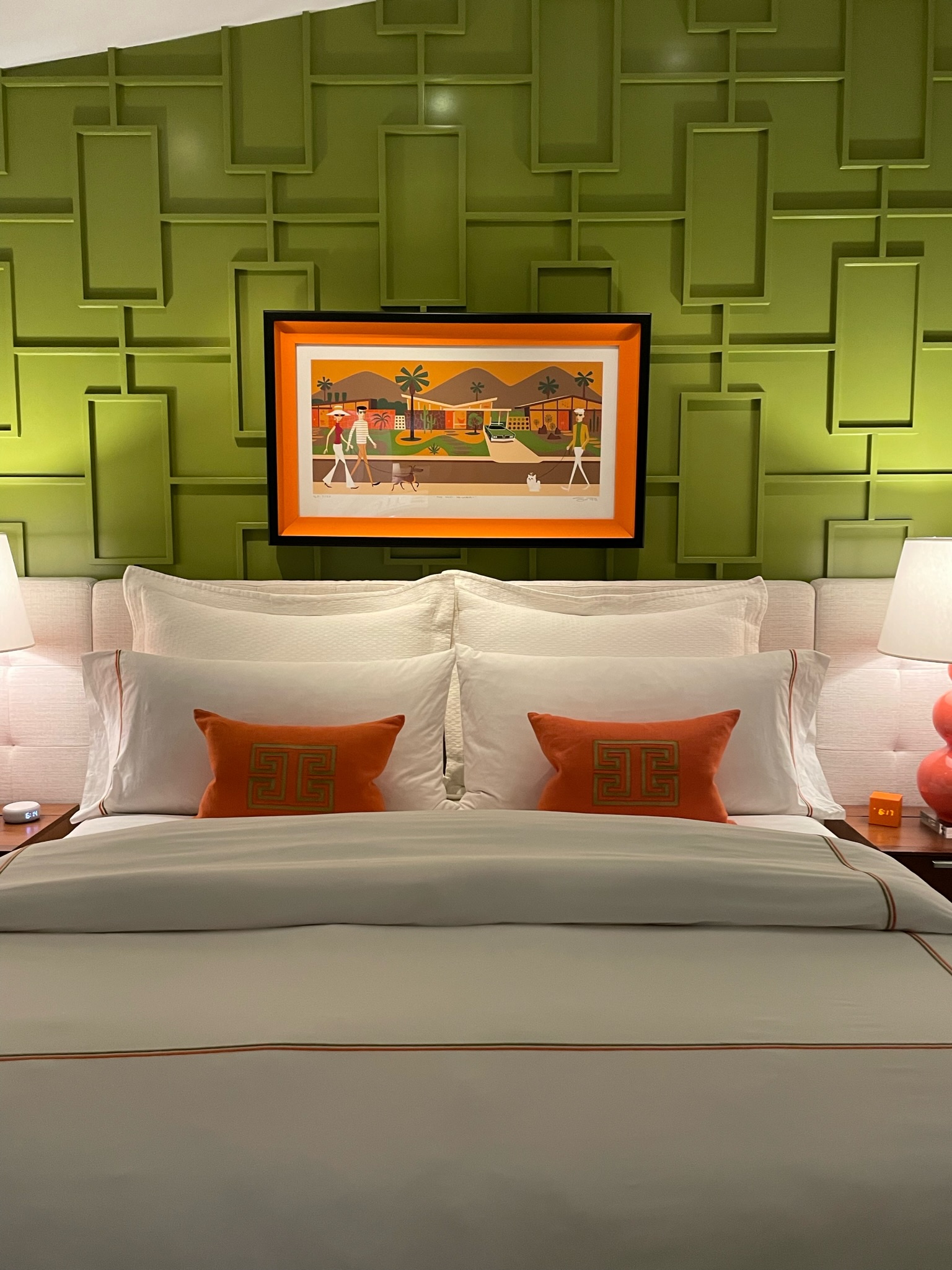 Bright green trimed wall with orange accent decor.
5. Checkerboard
Leaning into the Mid-Century modern and bold design, checkboard flooring, tile walls, and paint are coming back. Used in a multitude of ways, a checkboard can give not a traditional look to an entry or mud room or be used as a statement piece in a shower using contrasting colors and prints. The bold colors can be complemented with the checkerboard pattern but there is a more timeless and elegant side to the checkerboard. Using similar colors and shades, as well as natural materials, the checkerboard becomes a more subtle design feature. Although we will be seeing more of this, there is a fine line between '80 checkers and elevated everlasting design.
Remodeled Briarforest home with natural stone checkerboard entryway,
We are excited to implement these designs into our next homes! This is just a small taste of our favorites to look out for! What is your favorite?